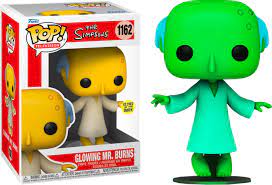 Funko Pop! The Simpsons - Glowing Mr. Burns Glow in the Dark 1162
Regular price $15.99 Sale
Funko Pop! The Simpsons - Glowing Mr. Burns Glow in the Dark 1162 (burns1162)
As seen in the iconic episode of The Simpsons, "The Springfield Files", which features amazing cameos from Mulder and Scully of The X-Files (as well as Chewbacca), Homer thinks he's discovered an alien in the Springfield Forest. However, he soon learns that it's just Mr. Burns wandering home from one of his routine medical treatments, designed to help him cheat death for another week.
This cromulent Pop! Vinyl features Mr. Burns in his hospital gown from the classic episode, as well as the giant eyes that come courtesy of the routine eye drops. Oh and let's not forget that he also Glows in the Dark, since a lifetime of working in a Nuclear Power Plant has given him a healthy green glow, and left him as impotent as a Nevada boxing commissioner.
To top it off, Mr. Burns also comes with the chance of a Translucent Green Chase Variant, which also Glows in the Dark! Kill it! Kill it!
So don't be afraid, embiggen your life with the Glowing Mr. Burns Pop! Vinyl Figure today. Remember, eternal happiness is just a Simpsons Pop! Vinyl away!
Ages 13 and up.
Comes with pop protector.