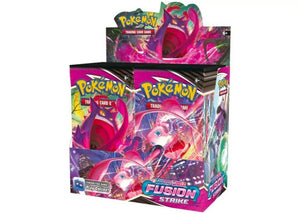 Pokemon- TCG: Fusion Stike Booster Box (36Packs)
Regular price $135.00 Sale
Pokemon- TCG: Fusion Stike Booster Box (36Packs) (fusion36)
The road ahead reveals limitless potential as the new Fusion Strike style emerges to harness the unbound spirit of Pokémon and Trainers alike! Adaptable new Pokémon V like Genesect V, Hoopa V, and Mew VMAX are eager for battle, while Single Strike and Rapid Strike Pokémon loom large as Rillaboom VMAX, Cinderace VMAX, and Inteleon VMAX appear in their Gigantamax forms. Go with the flow and discover powerful new strategies in Pokémon TCG: Sword & Shield—Fusion Strike!
Includes 36 Sword & Shield—Fusion Strike booster packs, each containing 10 cards and 1 basic Energy
NO REFUNDS ON THIS PRODUCT.
You will receive one (1) mystery box that includes 36 booster packs.
Disclaimer: Rare cards are not guaranteed. All boxes are chosen at random.
No exchanges or returns on boxes.
13 and up.